If you love to travel and experience the exotic, then I recommend visiting Marrakech : http://www.maroc.ma/en/content/map-morocco and staying in one of the wonderful Riads that are abundant there. These gems provide an incredible experience like nothing available anywhere else. Here are five of the best Riads in Marrakech.
Riad AL Rimal : http://www.riadalrimal.co.uk Most riads have a central courtyard which is open to the sky allowing fresh air and sunlight in during the day and starlight at night. Riad AL rimal has this and the serenity that comes with such closeness to nature. There's a nice roof terrace with overstuffed cushions, wrought-iron lanterns, low-slung seats, and a gorgeous vista view of the Atlas Mountains. It may even be difficult for the tantalizing smell of the home-cooked meals to drag you off the roof, but you should, the tagines are delicious.
Dar Darma – This riad is glamour plus with leopard skins, distressed metal stripes, and rich velvets. It doesn't sound like it should go together, but amazingly it all works and exceptionally well. A beautifully restored 17th century building with 300 year old zouak ceilings which is full of antiques provides hours of browsing. There are five incredibly palatial suites each providing a blissful night's sleep.
Riad Meriem – This riad is the perfect choice for the Christmas shopping trip since it is located right, and I mean, right outside the main souks. These are the souks that jam-packed full of tea glassed, fine leather goods, beaded slippers, and many, many more sparkly objects. At the end of a day of haggling for the very best price, you can retreat to the Riad with its filigree lanterns, hamman-style pool, cool flagstone floors, and the five gorgeously decorated guest rooms. There is a roof terrace which is tented with a view to the Atlas Mountains and is the perfect place to sip a cocktail with friends.
Riad Dar Sara – This riad is a find with its orange tree courtyard and its environment of complete tranquility. It is a complete haven with whitewashed walls, a small pool, beautiful Moroccan furnishings, and a roof terrace with a glorious view. The resident chef is a treasure whose lemon chicken is the best in the City.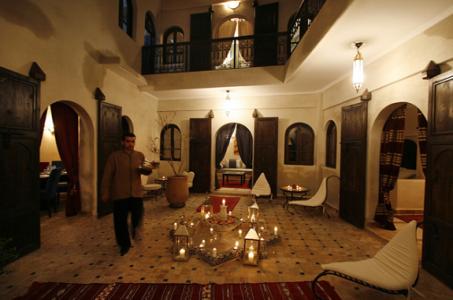 Riad El Fenn – This Riad is something special owned and operated by Vanessa Branson, it provides the height of luxury. Located immediately off the central Djemaa el-Fna, it is indulgent and incredibly stylish. With twenty-one bedrooms, each individually designed and filled with Vanessa's personal art collection, this Riad is a touch above anything else in the City.
These are the best riads in Marrakech and any are a great choice for a vacation stay. Each is as individual as the next and each will provide a wonderful experience. As the best riads in Marrakech, selecting any one of these will guarantee great service as well as a great vacation. Enjoy your trip to Marrakech!
Your trip to Morocco will be much more rewarding and enjoyable if you know the following information here : http://en.wikipedia.org/wiki/Morocco