Are you the proud owner of a beautiful wooden deck? Decks are great places to hang out during the warm summer months. Whether you like to lay in a hammock with a book or host a barbecue, the deck is the place to do it!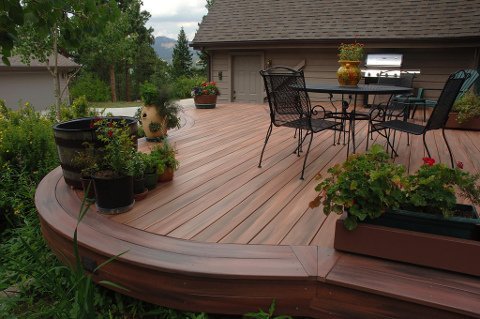 However, decks have a way of getting cluttered up. Between the foul weather in the winter and the general wear and tear, as well as being a depository for all of your outdoor furniture, your deck will definitely need some cleaning before you can enjoy it this summer. Read on to learn about deck cleaning.
For some comprehensive instructions along with some useful cleaning product recommendations you should read this blog post from Wood-Finishes-Direct.com.
Start by Removing the Clutter
Before we start getting stuck into the cleaning process we need to 'clear the decks, which is an old seafaring expression. It always helps to have a completely clear space to work in. Remove all of the furniture and other items from your deck – yes, even the grill – and put them elsewhere so you can work in a clear space. If your decking is anything like mine then, by the end of the winter, it will be littered with children's toys, bicycles, broken garden furniture and left-overs from last years barbecues. Time to get rid of it all.
Sweep and Scrape
Once everything extra is cleared away, sweep off any branches, debris and loose dust from the surface. Then, get down on your hands and knees and scrape in between the slats (use a scraper to do this). This type of debris has a way to collecting moisture and getting your deck to rot.
Wash Carefully
The next step is to wash. You can spray down the deck with the hose, or use oxygen bleach mixed with water. Oxygen bleach is better than chlorine bleach because it won't harm any plants that may be growing nearby. Follow instructions on the package to get the ration of water to bleach right, and then scrub every inch of the deck. Leave on for fifteen seconds, then rinse with the hose. You may also wish to use a pressure washer to apply water more aggressively. Repeat as needed to get rid of the worst stains, if necessary.
You may have noticed some dark patches here and there, often in the damp corners. This is a mold which grows on wood and it is best treated with a professional, chemical treatment compound.
Other Things to Think About
Before attempting any cleaning or home improvement project, make sure you have the proper equipment necessary and have taken the proper safety precautions. Bleach is a chemical that can be harmful to both humans and pets. Make sure that all small children and pets are kept away from your deck cleaning project (maybe attempt this when your kids are at school and Fido is at doggie daycare). You should also be careful about handling any aggressive cleaning agents or chemicals.
When this all complete your decking should be looking spick and span, ready for your next summer barbecue or garden party. So put the furniture back, add some charcoal to the grill and enjoy your deck!